Professional for used clothing collection and used clothing containers
Are you thinking of doing a used clothing collection? Do you need used clothing containers? Striebel Textil is your fair and strong partner who adapts to your individual needs. We have been cooperating with charitable collecting organizations for 25 years and have the necessary know-how for container and clothing drives. Ask us, we are your professional for used clothing!

Everything from a single source for collecting used clothing
Collecting, sorting and recycling used and second hand clothing is our profession. Striebel Textil is a certified recycling company for textiles with its own sorting facility for second hand goods. We offer our clients complete service for container, street and organization collections - from sourcing resources (flyers and bags) and logistics to recycling, plus all services required for collecting textiles.

Collection systems for used clothing – Set-up and financing assistance
Striebel Textil does not collect second hand goods on its own. We have been fair and competent partner of collecting organizations from renowned, ecclesiastic and charitable organizations, as well as associations and schools, for many years. We support our partners in financing and setting up new container collection systems for used clothing, setting up collection logistics, emptying containers and street collections.

High sale certainty for second hand goods and used clothing
Despite changing markets in the field of used clothing and a declining demand for original goods, Striebel Textil guarantees high sale certainty. This is possible thanks to our own sorting facility and many years of experience in textile recycling. Customers can be certain that Striebel Textil receives used clothing and second hand goods regardless of market conditions.

Certified specialized company for used clothing and second hand clothing
Striebel Textil is a certified recycling company in accordance with recycling management legislation. It strictly abides by legal specifications and standards for high-grade recycling of second hand goods. For all types of used clothing: the company is certified to perform all recycling management activities related to second hand goods, like collecting, transporting, sorting and storing.
This applies both to retail with second hand goods as well as the disposal of unusable clothing. As a licensee of "FairWertung", the professional association for non-profit used clothing collectors, we are committed to upholding the principles of "FairWertung".
Contact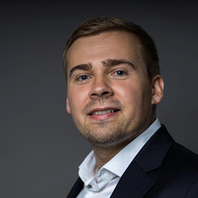 Simon Striebel
Geschäftsführer / Abteilungsleitung
Germany
Head office 0049-(0) 7376-96211-61
🖷 0049-(0) 7376-96211-67